Compass' own Leonard Steinberg recently shared this quick descriptive history of interest rates for the US 30-year fixed rate mortgage. We think it's worth taking a look at to understand the context of rates today.
The graph shows US 30-year interest rates from 1971 to today. Shaded in gray are US recessions. Data provided by Federal Reserve Economic Data (FRED) and the St. Louis Federal Reserve.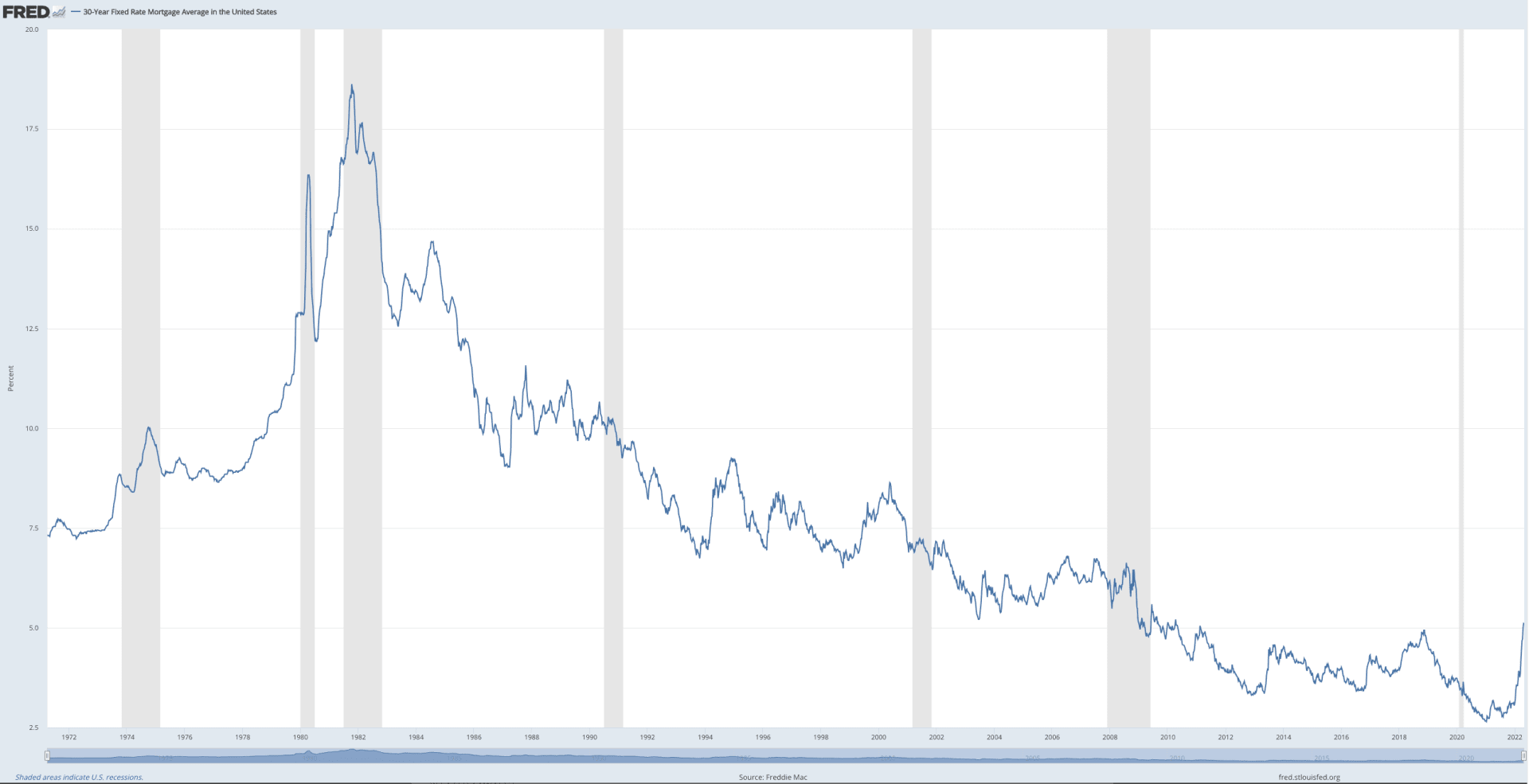 A timeline:
- Rates in 1971 were in the mid-7% range, moving up steadily until they were at 9.19% in 1974. They briefly dipped down into the mid- to high-8% range before climbing to 11.20% in 1979.
- Interest rates reached their highest point in modern history in 1981 when the annual average was 16.63%. Fixed rates declined from there, but they finished the decade around 10%.
- The average mortgage rate in 1990 was 10.13%, but it slowly fell, finally dipping below 7% to come in at 6.94% in 1998.
- Mortgage rates steadily declined from 8.05% in 2000 to the high-5% range in 2003. As the Great Recession hit, mortgage rates fell almost a full percentage point, averaging 5.04% in 2009.
- Mortgage rates entered the 2010's around 4.69%, falling steadily and were in the mid-3% range by 2012. In 2013, rates went up to 3.98% when the bond market panicked a little bit when the Federal Reserve said it would stop buying as many bonds. Rates rose to 4.17% in 2014 falling back to 3.85% in 2015. By 2016 they averaged 3.65%. Rates began to rise after the 2016 presidential election, reaching their peak at the end of 2018/start of 2019.... between 3.95% on the low end and 5.34% on the high end.
- By January 2020 came around, the average rate for a 30-year fixed was about 3.7%. When COVID hit they dipped into the 2's, hitting a low in December 2020 at 2.68%.