Spread the Holiday Cheer in Your Community by Shopping Local.
The holiday season is rapidly approaching, so now is the time to start tackling your holiday to-do list. Small businesses have faced a myriad of hardships due to the challenges of 2020. With that in mind, why not spread the holiday cheer by shopping locally? Shopping local pours money back into your community and allows you the chance to support small businesses. From baked goods to antiques, here are 14 of the best Cambridge businesses where you can cross some items off your holiday shopping list.
1. Artisan's Trading Co.
If you're looking for an elegant or sleek piece of furniture to enhance your home, check out
Artisan's Trading Co.
This local shop is all about creating high-quality fair trade products for a fair price. The furniture at Artisan's Trading Co. is made from farmed or reclaimed food — the product of zero deforestation. Stop by the warehouse showroom on Fawcett Street in Cambridge to see everything this noteworthy company is about!
2. Gather Here
Gather Here
is a store that wears many hats. This local Cambridge shop is part sewing studio and part fabric and yarn shop, as well as Cambridge's only stitch lounge. Here you will find loads of modern fabric and yarn, expert-led workshops, in-house sewing machine service and repair, and much more. Whether you are new to the hobby of sewing or a professional with years of experience under your belt, Gather Here has something for you. The friendly and knowledgeable staff is available and eager to answer any questions you may have. Gather Here is bursting at the seams with fun and creativity!
3. Elmendorf Baking Supplies & Cafe
To make this season even sweeter, check out
Elmendorf Baking Supplies
. Located in East Cambridge, Elmendorf is a retail and community space for bakers. This local shop has a cozy and inviting environment with plenty to offer. Here you can find everything from baking equipment to grains milled in-house. Elmendorf brings together the community, from experienced bakers looking for a challenge or novice bakers hoping to hone their skills. Whether you want to stop by here to grab some treats to sweeten your holiday weekend or sharpen your skills, Elmendorf has it all.
4. Henry Bear's Park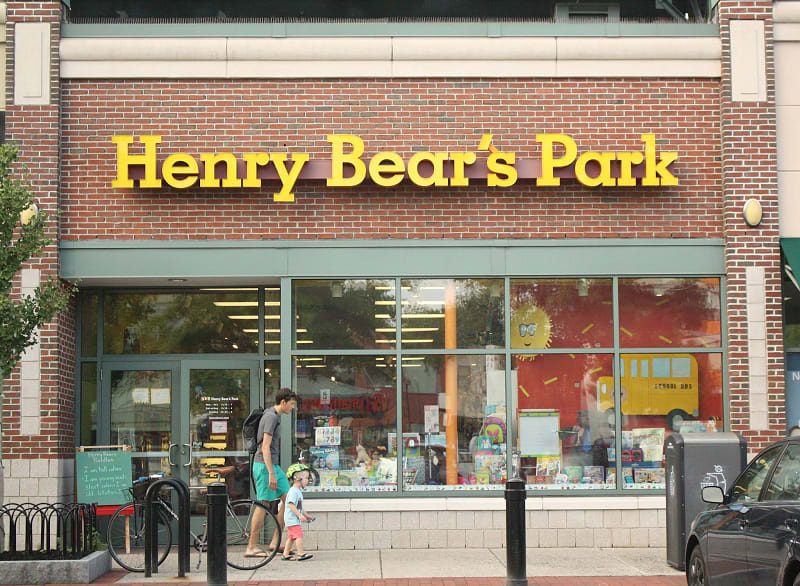 Credit: Henry Bear's Park
Henry's Bear Park
has been serving communities in the greater Boston area for more than 40 years, including their location in Cambridge. Find the perfect gift for the little ones in your life, from toys and games to books and puzzles. The colorful and engaging products are designed specifically to encourage kids of all ages to "unplug and play" and learn about themselves and the world around them. The welcoming and helpful staff members are there to help you find the perfect toy or gift for the kids in your life.
5. Porter Square Books
Porter Square Books
has been serving the Cambridge neighborhood since they first opened their doors in 2004. This independent bookstore, located in the Porter Square Shopping Center, offers everything from classics to current bestsellers. You can stop by the store and browse the selection or hop on their website to see what's available at a glance. In addition to a wide selection of books, Porter Square also offers other gifts for kids and adults. With options for shipping, gift wrapping, and in-store pickup, online shopping at Porter Square Books couldn't be easier.
6. Brattle Square Florist
Enhance your home by adding a pop of color, whether with a bouquet of stunning roses or a poinsettia. Nestled in the heart of Harvard Square on Brattle Street,
Brattle Square Florist
is a family-owned business that has been part of the community since 1973. Since then, Brattle Square Florist has been the florist of choice for many of Boston's most distinguished customers. With gorgeous floral arrangements and top-notch customer service, Brattle Square Florist works hard to meet the needs of the Cambridge community.
7. Esmeralda - Jewelry, Accessories & Gifts
If you're looking for the perfect gift for the special someone in your life, look no further than
Esmeralda - Jewelry, Accessories & Gifts
. Esmeralda features a thoughtfully designed selection of handmade jewelry, accessories, and gifts. Their selection is responsibly sourced from the USA and around the world to empower artisanal and small family businesses. This holiday season, shop Esmerelda to find a wide assortment of unique gifts and holiday items, from an ornament for your tree to handmade soaps and candles, just to name a few. All of their products are ethically made, so you can feel good while shopping at Esmeralda!
8. Fun Antiques
Located on Belmont Street in Cambridge,
Fun Antiques
is a unique antique outpost with a colorful selection of items. Here, you can find a variety of antique furniture, lighting, pictures, vintage jewelry, and sculptures. Additionally, Fun Antiques offers a range of vintage sound equipment, including microphones, record players, and musical instruments. All the items have been hand-picked by the owner from estates and auctions throughout New England and are brought back to the shop to be thoroughly cleaned and restored before being sold. Stop by and check out the wide selection for sale!
9. The Grommet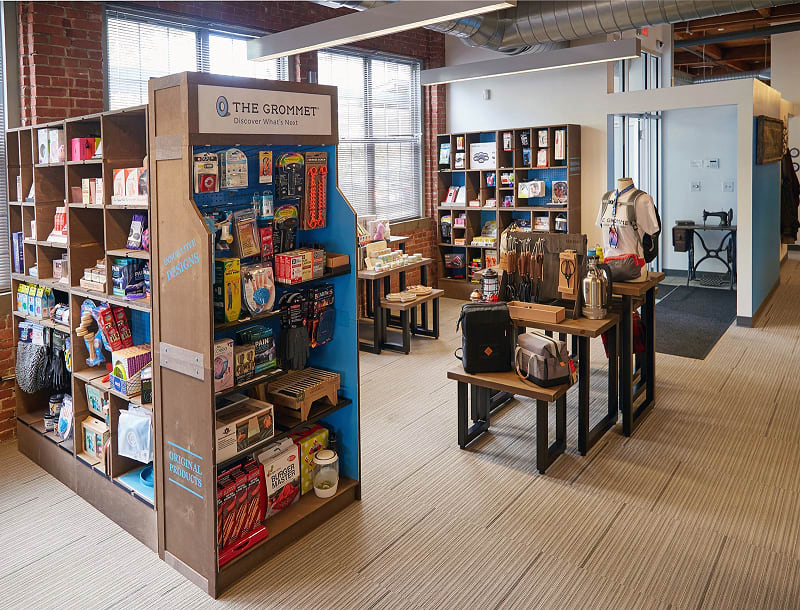 Credit: The Grommet
Since being founded in 2018,
The Grommet
has been on a mission to reinvent the way people purchase products. It's focused on bringing you things worth buying, including unique and innovative gifts. The Grommet seeks out small businesses and independent makers to carefully curate the products they sell in their store, from home and office supplies to toys, sports and fitness items, and travel products. Their
holiday gift
selection is broad enough that you're sure to find a great gift for all your loved ones, regardless of age, interest, or personality.
10. Follow the Honey
Follow the Honey
is much more than simply a store. This Cambridge shop is on a noble mission to shine a spotlight on the landscape, wildlife, and humanity from which honey originates. Located on Harvard Street, Follow the Honey is the place to find all things honey and bee-inspired gifts. You'll find raw untreated honey, beeswax candles, honey-filled truffles from local chocolatiers, holiday cards, honey-infused lotions, soaps, scrubs, and much more. Stop by the
Follow the Honey Facebook page
to learn more about raw honey's nutritional benefits, honey-based beauty products, and their educational community for raising honey bee awareness. No matter what you're looking for, this sweet shop is sure to have something you'll love.
11. Grolier Poetry Book Shop
Grolier Poetry Book Shop
is an independent bookstore on Plympton Street near Harvard Square. Founded in 1927, it is considered the oldest poetry bookstore in the nation. This rustic shop seeks to advance the cause of poetry by selling poetry books and organizing poetry events. If you or someone in your life is interested in the beautiful art of poetry, then you don't want to miss this store. Grolier offers a wide range of poetry, from modern to classic to the latest in contemporary poetry. Whether you are looking for a newly released book or an obscure one, you'll be sure to find it here.
12. Mariposa Bakery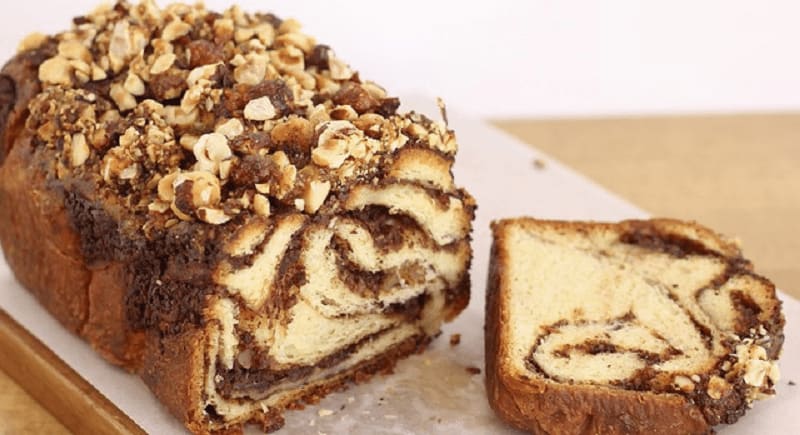 Credit: Postmates
Make your holiday a bit sweeter by indulging in some decadent wintery treats. Mariposa Bakery is beloved by Cambridge locals and visitors alike. This independent establishment features in-house baked pastries and bread as well as breakfast and lunch. All of their products are made from scratch and are baked on-site. Mariposa uses the best quality ingredients, including organic teas, farmers market produce, and direct trade coffee. The scones are one of Mariposa's most popular items and consistently rank among the bakery's top sellers. Stop by and try the classic orange or blackberry lime scone.
13. Inman Square Wine & Spirits
Inman Square Wine & Spirits
is a mom-and-pop boutique located in the Inman Square neighborhood. Their focus is on providing their customers with an exciting and well-curated selection of imported products. This local wine and spirits shop seeks to ensure that their products maintain a high level of quality. Although tastings have been postponed for the time being, you can still drop by and browse through their available selection of wine, beer, and spirits.
14. Simon's Coffee Shop
If you have a coffee connoisseur in your life, head on over to
Simon's Coffee Shop
. This local coffee shop features tastefully prepared lattes, sandwiches, tea, and live music. Known for its cozy and inviting environment, Simon's will make you feel at home in no time. If coffee isn't your thing, don't worry! Simon's delicious cider, with notes of spice, is sure to warm you up. Grab a bag of beans or a gift card for the coffee lover in your life.
If you're looking for homes for sale in Cambridge, contact
The Carol Kelly Team
today. As one of the most experienced real estate teams in the area, The Carol Kelly Team serves a wide range of neighborhoods. Their expertise and dedication to their clients will help you find the perfect piece of property, whether you are looking at condos for sale in Cambridge, single-family houses, or investment properties for your portfolio.
*Header Image: Yelp